Social Networks Auto Poster PRO for WordPress Multisite (WordPress MU)
Product Info

This products is for:
WordPress
Compatible with:
WordPress, WordPress Multisite Network (ex WPMU)
Not Compatible with:
Plain PHP, Joomla, Drupal
Social Networks Auto Poster PRO for WordPress Multisite (WordPress MU)
This Edition has all features from Social Networks Auto Poster PRO and adds a separate management module for WordPress Multisite SuperAdmin
Already have SNAP Pro? Please see here for the upgrade info: SNAP Pro to SNAP Pro for WordPress MU Upgrade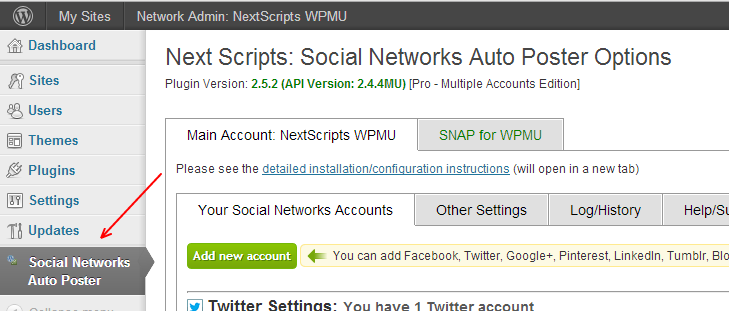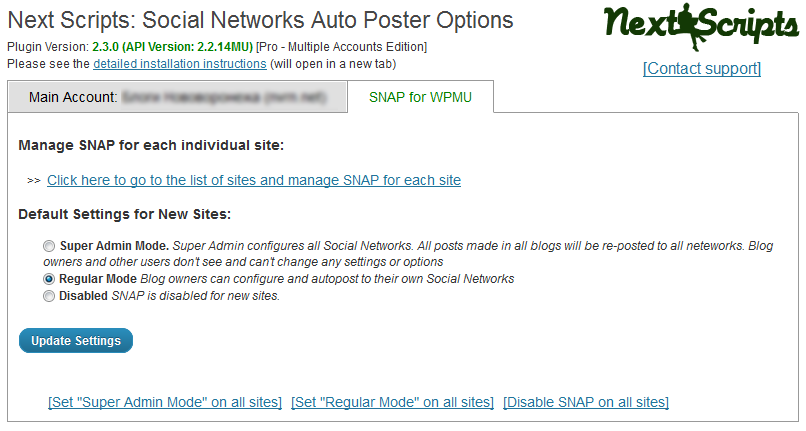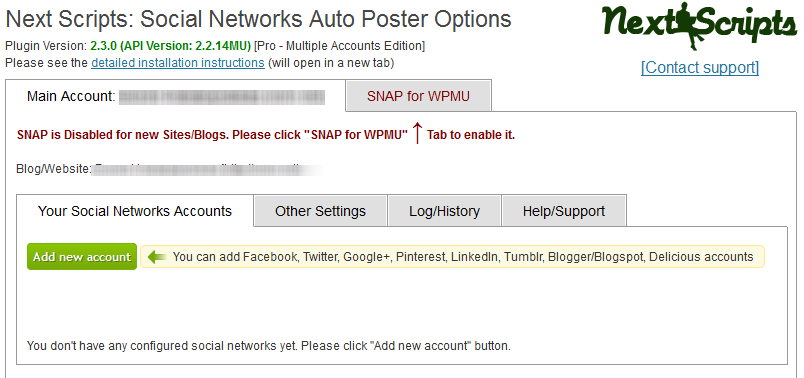 WordPress Multisite SuperAdmin can setup the whole network to:
– All Blogs/Sites autopost to networks configured by Super Admin
– Each Blog/Site Admin can configure and auto-post to it's own networks
– Super Admin can enable/disable auto-posting
Super Admin can also manage/setup/disable/override SNAP settings for each Blog/Site.

**Order for SNAP PRO for WordPress Multisite includes SNAP PRO **
Paypal:

SNAP Universal API (Run-time Only) adds to SNAP Pro Wordpress plugin ability to autopost to Google+, Pinterest, Blogger (Advanced Autoposting), YouTube, LinkedIn Company Pages, VK.COM (Advanced Autoposting - adds nice Link Attachments). Lifetime plugin upgrades are also included.

Please note: Run-time API will be installed automatically. Run-time API is not downloadable. Run-time API is embeded in the plugin and will allow plugin to autopost to the additional networks. It can't be used for any other purposes.


---
** Paypal users: Download links will be sent to your confirmed Paypal email only. Please make sure you have access to your Paypal email before placing an order.
** Credit Card users: Credit card processor takes it's time to process order. It could take from 10 minutes to 6 hours. You will get the email from us once your order is complete and your account and download links are ready.
What to do after the order?
Please see the
"Upgrade/Activation" instructions
---
Already have SNAP Pro?
Please see here for the upgrade info: SNAP Pro to SNAP Pro for WordPress MU Upgrade