Facebook Connection Beta
[June 2021] PS Connection Beta Program
Problem:
[From FAQ] Q: Why Facebook is constantly asking me to confirm new login location and change my password? What can I do about that?
A: All our scripts are installed on your server and your server makes posts to your networks directly. When you make a post your server logins to your social media account on your behalf and makes a post. The location that Facebook is asking you to confirm is a location of your server.
The further your sever from your home the more suspicious Facebook about that login. Please confirm that it was you. It might take several times and then Facebook will stop asking. Basically Facebook needs to mark your server IP as your "usual login" location. Once that happens, Facebook will stop with "suspicious activity" alerts.
It looks like we need more.
In some rare cases Facebook is not stopping, even after you have your new location confirmed several times. It happens when your site is located in the datacenter with very low IP trust rating.
What can be done?
The only thing that can be done is changing your IP to either something with better reputation or something closer to your home.
We built a network of highly reputable (from Facebook's point of view) IP Proxy Servers with  locations around the world. Starting from version 4.4 SNAP will be able to route all your communication with Facebook through the location somewhere near your usual login location. 
For example, you live in Vienna, Austria and your website is hosted in some huge datacenter in Colorado, USA. Your website is sharing its IP with 10000 other websites and Facebook marked that IP as "suspicious" long time ago.  SNAP will redirect your request to the clean IP in Austria and Facebook will have no reasons to block your postings.
This service is free for all active "Premium API" subscribers. All you need to do is to join "Beta" program, specify your "usual login" location,  add your website,  get a "PS Connections Key" and enter it into plugin settings. After that you will be able to activate "PS Beta" for your Facebook accounts. 
Please Join PS Beta Program here
Follow us
Please follow us on your favorite social network.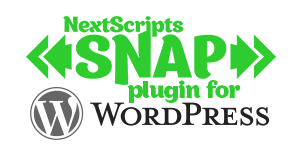 Pro version upgrade adds the ability to configure more than one account for each social network and some additional features.

What happened? SNAP Pro is checking for API update every 6 hours. Today (May 22, 2019) around 6:30PM EST Google Cloud messed our update server for about 7 minutes. A bunch of "lucky" sites that were checking for update during those 7 minutes got their plugin cache...