Setup/Installation: YouTube - Social Networks Auto-Poster for WordPress
How to setup YouTube in SNAP WordPress plugin and API
YouTube don't have a built-in API for automated posts yet. You need to get a special library module to be able to publish to YouTube.
SNAP can autopost to your channel stream.
Connect YouTube to your WordPress.
1. Login to your WordPress Admin Panel, Go to the Settings->Social Networks AutoPoster Options.
2. Click green "Add new account" button, select "YouTube" from the list.
3. Fill YouTube (Google) Login and Password.
4. Fill YouTube channel URL. (URL could be with or without the /feed/ at the end – examples: https://www.youtube.com/user/nextscripts/feed/ or https://www.youtube.com/user/nextscripts/ )
5. [Optional] Google+ Page ID: Fill this only if you are posting to YouTube as your Google+ page. Please leave this empty otherwise.
3. Your YouTube is ready to use.
Troubleshooting FAQ:
Question:  I've setup my Google account, but when I click the test button I get a message "Your username/password incorrect" or "You are not authorized to publish to this page". I am 100% sure I have correct Username and Password and I can post to that page.
Answer: Your Google Plus account might be locked for the new apps.
Solution:
1. Temporary Unlock your Google account for new apps:
– Login to your Google+ account from the browser and go to the https://www.google.com/accounts/UnlockCaptcha
– You will see page asking you to "Allow a new application to access your account". Click "Continue".
– You will get a message that you have 10 minutes to connect your application.
2. Go to the WP Admin Panel->Settings->Social Networks AutoPoster. Setup your Google+ settings.
3. Click "Submit Test Post to Google+" button.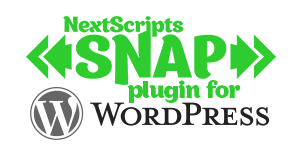 Pro version upgrade adds the ability to configure more than one account for each social network and some additional features.
<h4>Instructions</h4><!-- [et_pb_line_break_holder] -->

What happened? SNAP Pro is checking for API update every 6 hours. Today (May 22, 2019) around 6:30PM EST Google Cloud messed our update server for about 7 minutes. A bunch of "lucky" sites that were checking for update during those 7 minutes got their plugin cache...