Refund Policy
Refund Policy
Refund Policy
Due to the nature of the Nextscripts plugins and software, we are not able to control the activation or deactivation of a licenses remotely. In this case, it is not possible to "return" the software and ensure that the license is no longer used. Therefore, we do not provide refunds as a safeguard to prevent unauthorized use of licenses. This is a similar policy to many other software products.
By ordering the software you are agreeing with this policy.
We can guarantee that our software works as described on clean unbroken WordPress with default settings. We could not be responsible for any alterations or third party plugins damaging our functionality. However, if it doesn't work on your site, please contact support, we will try to make it work.
Before using the Nextscripts WordPress Plugin and API libraries you can try it out by downloading the free plugin and trying our demos. You can also review the documentation for details on Plugin and API libraries installation and customization.
Please make sure you understand functionality and this Refund Policy before purchasing the NextScripts WordPress Plugin and API Libraries.
If you are not clear on what to expect or have any questions, please contact us for more details.
Subscription Terms
There are no benefits associated with subscriptions. Subscriptions are offered only for your convenience and to ensure uninterrupted service. We do not force subscriptions. If you are not sure that you need a service for more then one year, please do not subscribe, please use "one time payment" options. Due to the refund policy we will not be able to refund any subscription charges. 
By choosing subscription you are explicitly authorizing all future payments until subscription is cancelled.
Subscription can be cancelled at any time with just one click from your account page or directly from your PayPal account. If you don't wish to renew, please chancel subscription before the renewal date. No refunds will be issued after renewal. 
Our system will send you 3 emails with the reminder of upcoming payment and instructions how to cancel subscription – 30 days before renewal, 7 days before renewal, and 1 day before renewal. Please white-list support@nextscripts.com to ensure those reminders won't end up in the spam folder.  However if you chose subscription and decide not to renew the license, it is your responsibility to make sure you cancel it before the renewal date.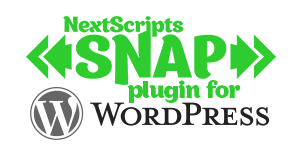 Pro version upgrade adds the ability to configure more than one account for each social network and some additional features.

What happened? SNAP Pro is checking for API update every 6 hours. Today (May 22, 2019) around 6:30PM EST Google Cloud messed our update server for about 7 minutes. A bunch of "lucky" sites that were checking for update during those 7 minutes got their plugin cache...