Unhealthy Cron Request
What does it mean "Unhealthy Cron Request"?
"Unhealthy Cron Request" message

First of all, "Unhealthy Cron Request" is NOT an error. It's just a warning.
"Unhealthy Cron Request" message does not necessary mean that something is wrong. It just means that your WP Cron is not set in the correct(stable) way and it could potentially cause you delays, duplicates or unposted posts. If you don't have any issues, you can just ignore that warning.
Although we really recommend you to setup WP Cron in a correct and stable way. WP Cron Setup
Set what posts go to each network based on categories, tags, type, format and many more criteria.
Limit Autoposting Speed
Importing many posts at once? Not a problem. SNAP can query your autoposts and publish them one by one in defined time intervals.
Autopost New Blogposts
SNAP will automatically post your newly published blogposts (pages, events, products, custom post types) to all your defined social media accounts.
Send a quick post to all configured social networks without creating a WordPress blogpost.
Automatically change/alter the words or sentences in your social media posts 
Export/Import Plugin settings
You Export and Import all plugin settings as backup or to move it to another site
Format your posts using flexible replacement tags. make text posts, share links, or post images.
Additional URL Parameters
Add additional parameters to the links posted by SNAP.
URL Shorteners
URL Shorteners: bit.ly, is.gd, Rebrandly, YOURLS and built in WordPress URL Shortener
See what was posted
You can see the direct links to the posts published by SNAP on the "Post Edit" page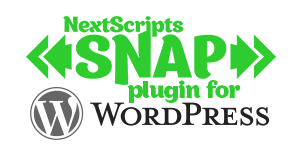 Pro version upgrade adds the ability to configure more than one account for each social network and some additional features.

What happened? SNAP Pro is checking for API update every 6 hours. Today (May 22, 2019) around 6:30PM EST Google Cloud messed our update server for about 7 minutes. A bunch of "lucky" sites that were checking for update during those 7 minutes got their plugin cache...