Setup/Installation: LinkedIn - Social Networks Auto-Poster for WordPress
How to setup LinkedIn in SNAP WordPress plugin and API
NextScripts API for LinkedIn
 Looking for Native API Configuration Instructions? Here: Native API for Linkedin Instructions
Auto-posting to LinkedIn Profile, Pulse, Company Pages and Groups
Setting up NextScripts API for LinkedIn.
This is "Pro" only functionality for posting to Profile, Pulse, Company Pages and Groups
1. Login to your WordPress Admin Panel, Go to the Settings->Social Networks AutoPoster Options.
2. Click "Add new account", select LinkedIn.
3. Choose NextScripts API, "Email" and "Password". Once you are done, plugin will check your credentials and fill dropdowns with your pages and groups.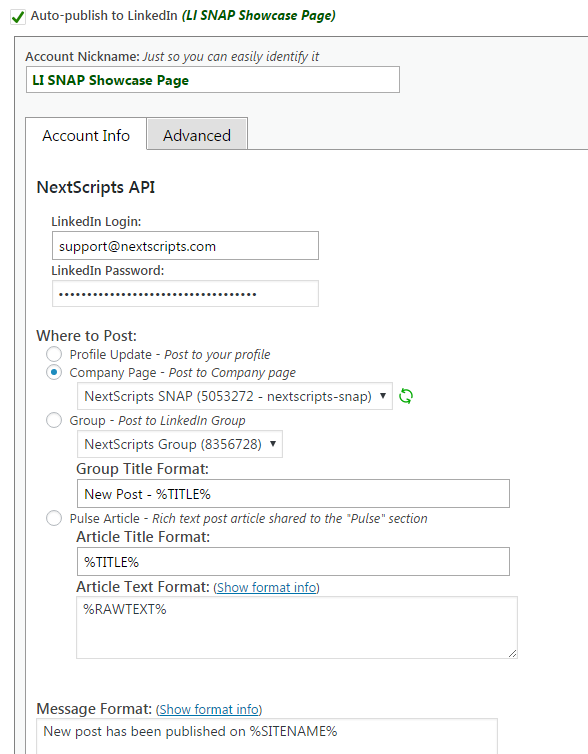 5. Select where you would like to post and click "Add Account"
6. Your LinkedIn account is ready to use.
FAQ. In case you get "Please enter your code" or "Login Problem – You have exceeded the maximum number of code requests. Please try again later" situation.
1. Add LinkedIn account. Ignore any errors you might get.
2. Wait for some time.
3. Go to that LinkedIn account settings and click "Test" button.
4. Plugin will ask you for a code. "Do not close that window!". Check your email or phone, get the code, enter it.
5. it will work fine after that.
[Important] If you are getting "Checkpoint" or "No Access(RCNR)" Error, please try "Alternative LinkedIn Configuration"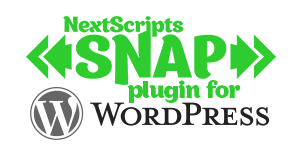 Pro version upgrade adds the ability to configure more than one account for each social network and some additional features.

What happened? SNAP Pro is checking for API update every 6 hours. Today (May 22, 2019) around 6:30PM EST Google Cloud messed our update server for about 7 minutes. A bunch of "lucky" sites that were checking for update during those 7 minutes got their plugin cache...