Version 4 Issues.
Already known Version 4 Issues
Due to high volume of tickets, the response might take several days.
We are very busy working on Version 4 issues.
Please check the list of
already reported version 4 issues
.
Please do not open new tickets about those issues. Such tickets won't be answered.
Active issues:
SNAP plugin messes Admin Interface.
SNAP breaks Visual Composer
"nxs_doManPost is not defined" Error.
SNAP plugin breaks multiple Woocommerce interfaces (Add Order, Add Coupon, Add Product)
Reposter does not save the dates.
List of Reposters is showing only 5 recent items.
SNAP Interface is NOT shown for WP Pages even if selected in filters.
[Twitter] Bad Image
[Stumbleupon] Invalid token error.
[LinkedIn] does not post to Pulse
Fixed issues:
Fixed in 4.0.3 [10/17/2017] =
* Bug Fix – CSS Image has been removed from all non-SNAP pages.
* Bug Fix – Insecure request for remote image has been removed.
* Bug Fix – [Telegram] Missing images.
* Bug Fix – Broken [Show More] buttons.
* Bug Fix – Performance improvement for some sites experiencing slow down.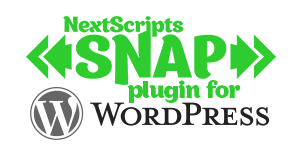 Pro version upgrade adds the ability to configure more than one account for each social network and some additional features.

What happened? SNAP Pro is checking for API update every 6 hours. Today (May 22, 2019) around 6:30PM EST Google Cloud messed our update server for about 7 minutes. A bunch of "lucky" sites that were checking for update during those 7 minutes got their plugin cache...