Setup/Installation: Blogger – Social Networks Auto-Poster for WordPress
Blogger can use built-in API with oAuth. Also it can benefit from the NextScripts Universal API Library if you have it installed.
You can choose what API you would like to use.
Blogger(Google) Native API: Free built-in API from Blogger/Google. Free built-in API from Blogger. More secure, more stable. More complicated – requires approval of access to API by Google (3-5 days) and authorization.
NextScripts API for Blogger: Premium API with extended functionality. Easier to configure, but less secure – requires your password.
Blogger Configuration
1. Connect Blogger to your WordPress.
1. Login to your WordPress Admin Panel, Go to the Settings->Social Networks AutoPoster Options.
2. Click green "Add new account" button, select "Blogger" from the list.
other then using your main Google account.
3. Enter the Blogger Blog ID. Log to your Blogger management panel and look at the URL: http://www.blogger.com/blogger.g?blogID=8959085979163812093#allposts. Your Blog ID will be: 8959085979163812093.
a. Click on your blog name at the main Blogger management panel.

b. You will see your Blog ID in the address bar.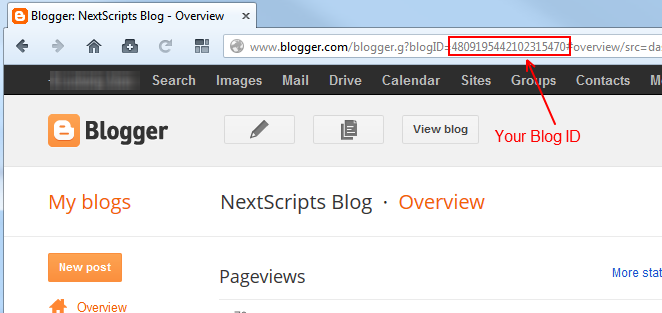 3. If you are using NextScripts API for Blogger, please fill Blogger Login and Password. If you are using native Blogger API, please fill client ID and Client Secret.
===>> Show How to get Blogger API Client Key and Secret
5. Click "Update Settings".
2. Your Blogger is ready to use.
---
How to setup each type of Social Network
1
Facebook Configuration
2.
Twitter Configuration
3.
Google+ Configuration
4.
Pinterest Configuration
5.
App.Net Configuration
6.
Blogger Configuration
7.
Delicious Configuration
8.
Deviantart.com Configuration
9.
Diigo Configuration
10.
Flickr Configuration
11. [New]
Medium Configuration
12. [New]
Instagram Configuration
13.
Instapaper Configuration
14.
LinkedIn Configuration
15.
LiveJournal/Dreamwidth Configuration
16.
Reddit Configuration
17.
Scoop.It Configuration
18.
Stumbleupon Configuration
19.
Tumblr Configuration
20.
Plurk Configuration
21.
vBulletin Configuration
22.
vKontakte(vk.com) Configuration
23.
Blog.com/Wordpress.com Configuration
24.
YouTube Configuration
24. [New]
Yo Configuration
25. [New]
500px Configuration
Have problems? Please check out the
Troubleshooting FAQ
page.